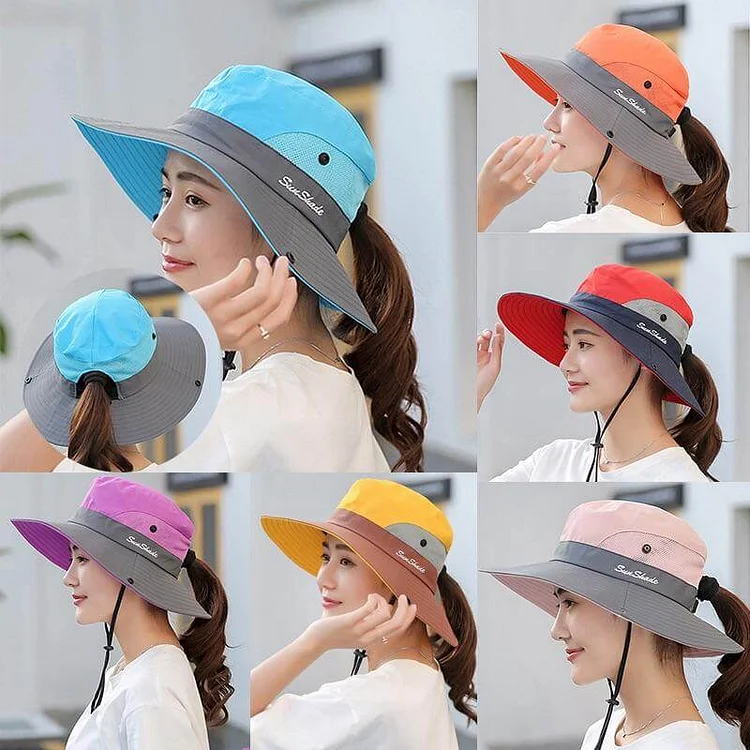 Outdoor activities in summer always are hot and there is sunburn?
Protect yourself from the sun's harmful rays with this UV protection cap for this sunny weather.
✅ Our revolutionary sun hat has a built-in UV barrier that reflects the sun's heat, protecting you from harmful UV rays and keeping you cool in the summer.
✅ Get full sun protection and style with this unique hat. Our signature moisture wicking mesh material makes this hat the perfect companion for any outdoor activity.
✅ You can also fold and pack it to make traveling easier. 
UNIVERSAL: Rear adjustable elastic drawstring, built in for one size fits all adult.
SUN PROTECTION AND UV PROTECTION: This hat has built-in UV protection to protect your face and neck from the sun's harmful rays.
MULTIFUNCTIONAL: Can be used as a normal hat or can also be transformed into a cowboy hat.
HORSE TAIL COMPATIBLE: It also has a small hole built in for ladies with ponytails.
WATERPROOF: It is waterproof and has a built-in quick-dry function.
WINDPROOF: It is also good for windy days. Comes with an adjustable drawstring so that the cap does not fly away in the wind.
BREATHABLE: Double fabric design, sweat absorbing mesh lining, adjustable straps. It will keep you cool and comfortable.
FOLDABLE: It is easily foldable, so you can pack it and take it anywhere. The sun hat will keep its shape well even after so many folding and unfolding.
It is the perfect companion. Take it with you every day or when you go on vacation. Perfect for beach, pool, park, camping, hiking, fishing, gardening or any outdoor activity.